What is Apollo Sugar GlucoMe Glucometer?
Apollo Glucome glucometer is a complete diabetes management tool.
It is a state of the art smart digital glucometer that sends your sugar values directly to your doctors and family members as soon as you measure them.
| | |
| --- | --- |
| |   Digital blood glucose monitoring system |
| |   Accurate blood glucose monitoring & streaming to caregivers and family members |
| |   Reports on sugar levels and HbA1c estimate |
| |   No need for wifi, connectors, Bluetooth, or cellular connectivity |
| |   Flawless measurement accuracy |
| |   Meets the ISO accuracy standard |
| |   Can be used in various environments like home, office, hotels, and outdoors. |
Why you need Apollo Sugar GlucoMe Glucometer?
To control diabetes you need:
To measure sugar levels regularly.
Tell your doctor about changes in sugar levels.
Know what foods are good and what to avoid.
Know how much exercise is optimum.
Our home care kit offers all these and more!
Measuring Sugar Levels
You need regular home diabetes checks in order to measure blood sugar level fluctuations. This will help your doctor optimize treatment, diet, and exercise.
| | |
| --- | --- |
| Time of test | Ideal for Adults with Diabetes |
| Before a Meal | 70-130 mg/dL |
| 1 to 2 hours after beginning a meal | Less than 180mg/dL |
Apollo Sugar GlucoMe Glucometer
Effortless blood sugar measurement and recording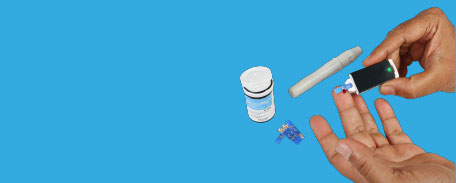 Instant transfer to caregivers and family members
Gives HbA1c estimate
Can add diet and exercise for tracking
Flawless measurement accuracy
Meets the ISO accuracy standard
Features & Benefits:
Minimum Blood Sample: 0.5Measuring Time: 5 Sec25 StripsServices : Gluometer is part of seller warrant for period of 1 year
How To Use:
Wash and dry your hands using warm water may help the blood flow.After washing your hands, insert a test strip into the meter.Use the lancing device on the side of your fingertip to get a drop of blood.Touch and hold the edge of the test strip to the drop of blood, and wait for the result.Your blood glucose level will appear on the meter's display.
Highlights:
Minimum Blood Sample: 0.5
Measuring Time: 5
10 Lancets
25 Strips