[review]
To buy kitchen appliances online, the Philips Viva Collection Airfryer HD 9220 is the ideal pick specially for those who are looking for tasty food without fat content and this product is now available at Zotezo.com. Philips Airfryer patented Rapid Air Technology enables you to fry the tastiest crispy fries that contain up to 80% less fat than a conventional fryer! Its unique combination of fast circulating hot air and a grill element allows you to fry a variety of delicious fried food, snacks, chicken, meat and more in a fast and easy way. Since you only fry with air it provides less smell and vapors than traditional frying, is easy to clean and safe and economical for daily use. General
Technology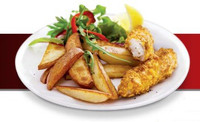 The Rapid Air Technology employed by this air fryer helps you lead a healthy lifestyle by cutting down your fat intake by almost 80%. It allows you to deep fry your food with little or no oil. Apart from that, the fast-circulating superheated air also lets you easily bake, roast or grill stuff in just a matter of minutes.
Integrated Air Filter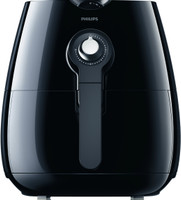 Often, when we are deep frying food our kitchen smells for a long time afterwards. It might get awkward when you have guests arriving at your home. To solve this issue, this air fryer is equipped with an air filter that reduces the smell created while cooking.
Design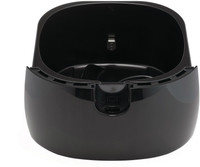 Compact, safe and easy-to-clean, this air fryer ticks all the right boxes. You can put the detachable, non-stick food basket of this kitchen appliance in your dishwasher to clean it quickly and efficiently. It also features a cool-touch handle and non-slip feet to avoid potential accidents in the kitchen.
Operation
Equipped with an inbuilt timer, this air fryer lets you pre-set the cooking time for up to 30 minutes. It also has an auto-shut off feature that lets you know when your food is done cooking with a sound indicator. The temperature-controlling feature lets you set the right temperature up to 200 degrees for optimum cooking results.
Power Consumption
This kitchen appliance runs on 1425 W of power and can cook up to 800 gms of raw ingredients in one go. It also comes with an internal cord storage facility, which allows you to easily store the 0.8m cord after use.
Specifications:
30-minute timer
Adjustable Thermostat
Automatic Shut-Off
Cool-touch handgrips
Integrated On/Off Switch
Non-Slip Feet
Patented 'Rapid-Air-Technology'
Power-on Light
Ready Signal
Temperature Light Technical
Capacity: 2.2Ltr.
Cord Length: 1 Mtr. Frequency: 50/60 Mz.
Power: 1425 W
Voltage: 230 V
Available Color(s): Black and Silver
Material: Plastic Dimensions (W x H x D): 287 x 315 x 384 mm
Appliance Weight: 7.0 Kg Food Separator
Product Dimensions: 38.4 x 28.7 x 31.5 cm ; 6.99 Kg