Last price update was: August 23, 2019 4:36 pm
×
Product prices and availability are accurate as of the date/time indicated and are subject to change. Any price and availability information displayed on Amazon at the time of purchase will apply to the purchase of this product.
Kent Grand Plus 8 Ltr RO + UV + UF Water Purifier (White)
Set Lowest Price Alert
×
Notify me, when price drops
Set Alert for Product: KENT Grand 8-Litres Wall-Mountable RO + UV/UF + TDS Controller (White) 15 ltr/hr Water Purifier - Rs. 14,991
Most trusted and largest selling RO water purifier with a transparent design that shows off KENT's patented Mineral RO technology and an inbuilt TDS controller. Best suited for Indian homes and offices and suitable for purification of brackish/tap water/municipal corporation water supply. Specifications:- Applications: Suitable for Purification of Brackish / Tap Water Purification Capacity: Upto 20 LPH Body Material: ABS Food Grade Plastic Mounting : On the Wall Dimensions(mm): 400 (L) x 250 (W) x 520 (H) Inlet Water Pressure/Temp (Min): 0.3 kg / cm2 or 4.3psi / 10°C or 50°F Inlet Water Pressure/Temp (Max): 3 kg / cm2 or 42.7psi / 40°C or 104°F Filter Cartridges :Sediment, Carbon Block Filter, UF & Post Carbon Auto-Flushing System: Yes UV Lamp Wattage :11 Watt Weight: 9.4 kg Storage Capacity :8 L Purification Production Rate : 20L/hr or 0.33 L/min Maximum Duty Cycle :100 L/day Power Consumption :60 W Membrane Type :Thin Film Composite RO Booster Pump Voltage :24 V DC Input Power Supply :Single Phase 220 ± 10 V AC, 50 Hz
Kent Grand Plus 8 Ltr RO + UV + UF Water Purifier (White)
Description
The Kent Grand Plus 8 L water purifier ensures that you and your family always drink clean and healthy water. Equipped with the Mineral RO Technology and Double Purification, this water purifier effectively removes impurities from the water to give you clean and safe drinking water.
Mineral RO Technology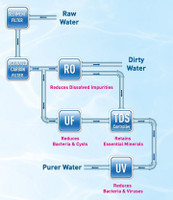 This patented Mineral RO Technology uses the TDS Controller to retain the essential natural minerals in the water, thereby providing you and your family with safe and tasty drinking water.
Double Purification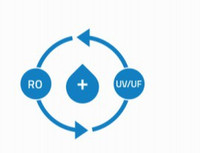 The double purification of RO + UV/UF makes water completely safe for drinking. This process removes even the dissolved impurities such as chemicals, bacteria, viruses, and salts.
High Storage and Purification Capacity
This Kent Grand+ purifier has a capacity to store up to 8 L of purified water. Also, its high purification capacity of more than 20 L per hour can provide you with purified water at a faster rate.
Trusted by Millions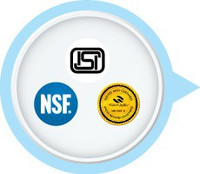 This Kent purifier is tested and certified for its performance and quality by WQA (USA and India) and NSF (USA) which are the world's renowned laboratories.
Save Water Technology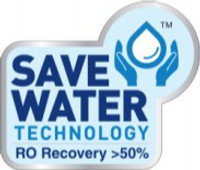 In most water purifiers, only around 20% of water is recovered as purified water. However, Kent employs a computer-controlled process to recover more than 50% of purified water. The rejected water is stored in a separate tank which you can utilise for mopping or washing.
Product Highlights : 
White, 8-Litres tank, Power Consumption- 60W ; Input Water Temperature-10-35 C ; Booster Pump Voltage- 24 V DC ; Tank Material: Food Grade Plastic

Can be used for TDS (500-2500). Please use a TDS meter to find out the correct TDS of your water source before buying a water purifier

Product Dimensions: 399 cms (Length) X 255 cms (Width) X 535 cms (Height)

Technology: RO+UV +UF+ TDS Mineralizer water purification

Purification Capacity: 15 Litres Per Hour

Electrical & Storage : Electric purification – suitable for areas with water shortage
8 Ltr : More the capacity, more the users can be served with drinking water
RO + UV + UF : Uses many filters to remove salts & microbes in multiple stages
Product Details :
Auto Shut Off : Yes
Auto Start : Yes
Filter Type : Sediment, Activated Carbon, UF, Post Carbon
Membrane Type : Spin-welded RO Membrane
Storage Tank Material : ABS Food grade Plastic
Indicators : Water Level
Other Body Features : ABS Food grade Plastic
Alarms : UV Fail Alarm, Filter Change Alarm
Other Features : Minimum Inlet Water Pressure: 0.3 kg/cm2, 1812 – 75 GPD RO Membrane, Maximum Duty Cycle: 75 L/day, 75 L / Day Max Duty Cycle, Maximum Inlet Water Pressure: 3 kg/cm2, 11 Watt UV Lamp Power, Leak-proof
Power Requirement : 160 – 220 V, 50 Hz
Power Consumption : 60 W
Filtration Capacity : 20 Ltr
Maximum Input Water Temperature : 35 degree C
Minimum Input Water Temperature : 10 degree C
Installation Type : Wall Mount
Total Dissolved Solids (TDS) Levels : 500 ppm
Product Dimensions:
Width : 26 cm
Height : 52 cm
Depth : 41 cm
Weight : 9.4 kg
In The Box : Service Center Details, 1 Unit, User Manual, Warranty Card
Installation: Free installation is provided on this product by the manufacturer. For requesting an installation/demo for this product once delivered, please call the manufacturer's customer support on: [9278912345]. Else please wait for 24 hrs for the brand to contact you post-delivery for metro cities. For others, please wait for 48 hrs for brand to contact you post delivery
Warranty :
1 Year Warranty + 3 Years free service
On-site Service, Customer Needs to Call All India Kent Service / Installation No. 92789 12345, Service Engineer Will Come to the Site to Get the Product Repaired or Inspected
Excellent
Most trusted and largest selling RO water purifier with a transparent design that shows off KENT's patented Mineral RO technology and an inbuilt TDS controller. Best suited for Indian homes and offices and suitable for purification of brackish/tap water/municipal corporation water supply. Specifications:- Applications: Suitable for Purification of Brackish / Tap Water Purification Capacity: Upto 20 LPH Body Material: ABS Food Grade Plastic Mounting : On the Wall Dimensions(mm): 400 (L) x 250 (W) x 520 (H) Inlet Water Pressure/Temp (Min): 0.3 kg / cm2 or 4.3psi / 10°C or 50°F Inlet Water Pressure/Temp (Max): 3 kg / cm2 or 42.7psi / 40°C or 104°F Filter Cartridges :Sediment, Carbon Block Filter, UF & Post Carbon Auto-Flushing System: Yes UV Lamp Wattage :11 Watt Weight: 9.4 kg Storage Capacity :8 L Purification Production Rate : 20L/hr or 0.33 L/min Maximum Duty Cycle :100 L/day Power Consumption :60 W Membrane Type :Thin Film Composite RO Booster Pump Voltage :24 V DC Input Power Supply :Single Phase 220 ± 10 V AC, 50 Hz
PROS
Has mineral RO Technology for filtered water
Has Double Purification technology for clean pure water
High Storage and Purification Capacity computer-controlled process to recover more than 50% of purified water
It is trusted by millions
Very user friendly
CONS
A little pricey but with all the features it is definitely okay
Kent Grand Plus 8 Ltr RO + UV + UF Water Purifier (White) Prices
Price History
Price history for KENT Grand 8-Litres Wall-Mountable RO + UV/UF + TDS Controller (White) 15 ltr/hr Water Purifier

Latest updates:

Rs. 14,991 - August 23, 2019
Rs. 14,995 - August 12, 2019
Rs. 14,699 - August 11, 2019

Since: August 11, 2019

Highest Price: Rs. 14,995 - August 12, 2019
Lowest Price: Rs. 14,699 - August 11, 2019